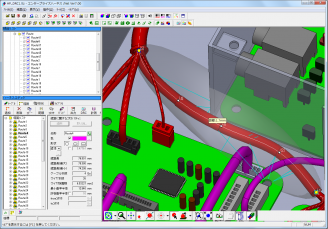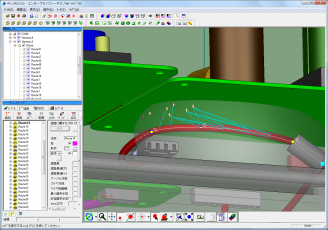 Function of Product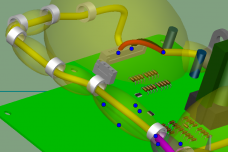 DRC (DESIGN RULE CHECK) OPTION offers a function of finding problems focused on the wire harness.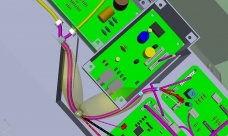 ・Capable of Checking Potential Problematic Points Preferentially
DRC OPTION allows for finding potential problematic points peculiar to the wire harness such as locations where cables may be pinched and edges that may cause damages to cables.

・Capable of Focusing Check in the Limited Area within which Wire Harness may deflect
DRC OPTION allows for focusing check on the potential problematic points in the area that is automatically calculated as an area within which wire harness may deflect. This will enhance the effectiveness of the result of checking and enable validation of wire harness, the accuracy of which is close to an accuracy in a situation where the same is conducted with an actual product.

・Capable of Visual Inspection in Accordance with the Deflection of Wire Harness
As it is possible to display the area within which wire harness may deflect, DRC OPTION allows for visual inspection of the locations where such parts as those control the movement of wire harness, wire harness fasteners, etc. are to be placed.
Purpose of use
Detection of potential problematic points such as follows that may cause scratches on wire harness and sandwich of cables during the assembly of wire harness.
・Tip of screw
・Edge of sheet-metal part
Movement environment
OS
MicrosoftR Windows 7 English SP1 32/64bit
MicrosoftR Windows 10 English 64bit
CPU
Intel® PentiumⅢ® 800MHz
Memory
1GB
Hard Disk
1GB
Display Resolution
1024x768 pixel
32768 colors
License Type
Network License
Nodelock License